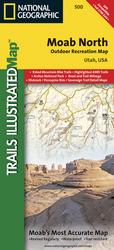 500 - Moab North
This Trails Illustrated topographic map is the most comprehensive and complete recreational map for the recreation areas north of Moab, Utah. The map shows all trails, campsites, and recreational features, plus ratings and mileage for mountain biking trails and junction-to-junction road and trail mileage.

Coverage area includes Green River, Fisher Towers and Arches National Park; highlighted Jeep Safari Trails and Mountain Bike Trails from Moab to Interstate 70; enhanced coverage of Dubinsky Wash to the Green River. Includes detailed 1:35,000 scale insets of Moab, Slickrock Bike Trail, Sand Flats Recreation Area, and Monitor and Merrimac Buttes/Bartlett Wash Area.

All data is updated to reflect road closings, new trails, and campground relocation. Printed on waterproof, tear-resistant material with a plastic coating that offers supreme durability for your next outdoor adventure.

Scale = 1:70,000.

$11.95