ATV Trails


Books Maps & Guides
These books are the books that I use as guides when I am in Colorado and Utah. I highly recommend these books to anyone thinking of going to these areas. Though these books are for Jeeps most of the trails can be ridden by ATVs and Motorcycles

678-378-7937

All Items are shipped next business day via USPS Priority Mail
You will be provided tracking info via email


Guide to Moab, UT Backroads & 4-Wheel Drive Trails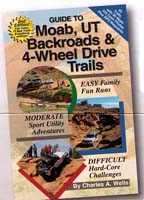 2nd Edition
National Geographic's Trails Illustrated Map 500 + 501

55 Trails • 60 maps • over 335 color photos • 224 pages

Covers 55 exciting trails around incredible Moab, Utah, including trips inside Canyonlands and Arches National Parks. Also features most trails from the annual Easter Jeep Safari, including favorites like Golden Spike, Pritchett Canyon, Hell's Revenge, Poison Spider and Moab Rim. Twenty-eight trails are suitable for most stock sport utility vehicles. Includes GPS Waypoints. This is a great guide for both ATVs and Jeeps.
This book has been completely redone and updated by author Charles A. Wells. Expanded to 55 trails with 10 all new. Stunning full-color shaded relief maps show every contour of Moab's rugged backcountry, including trails inside Canyonlands and Arches National Parks. Over 335 high-quality color photos. Thirty-five easy and moderate routes suitable for most high-clearance sport utility vehicles and pickup trucks. More Easter Jeep Safari trails including Strike Ravine and Dome Plateau. New format for GPS puts waypoints next to every map.


This combo deal also includes National Geographic's Trails Illustrated Maps 500 + 501 which show the entire area around Moab
SALE $47.85 you save $4 Closeout Special Now only $43.95, book has been updated with a 3rd edition but this book is in no way obsolete.
Complete Trail Listing
AREA 1
Northwest Moab & Arches National Park
1. Book Cliffs, Sego Canyon (E)
2. White Wash Sand Dunes (M)
3. Tower Arch (M)
4. Tusher Tunnel (E)
5. Hidden Canyon Overlook (M)
6. Hidden Canyon (E)
7. Bartlett Overlook (D)
8. Bartlett Wash Road (E)
9. Sevenmile Rim (D)
10. Rainbow Terrace (M)
11. Secret Spire, Dellenbaugh Tunnel (M)
12. Spring Canyon Point (E)
13. Spring Canyon Bottom (E)
14. Hey Joe Canyon (M)
15. Mineral Point (E)

AREA 2
Central Moab
16. Gemini Bridges (E)
17. Metal Masher (D)
18. Long Canyon (E)
19. Bull Canyon (M)
20. Gold Bar Rim (D)
21. Poison Spider Mesa (D)
22. Golden Spike (D)
23. Cliff Hanger (D)
24. Hurrah Pass (E)
25. Moab Rim (D)
26. Pritchett Canyon (D)
27. Kane Creek Canyon (D)
28. Behind the Rocks (D)
29. Strike Ravine (D)
30. Picture Frame Arch (E)
31. Flat Iron Mesa (D)
32. Hell's Revenge (D)
33. Fins & Things (D)
34. Sand Flats Road (E)
35. Steel Bender (D)

AREA 3
East Moab & Manti-La Sal National Forest
36. Onion Creek, Fisher Towers (E)
37. Dome Plateau (M)
38. Top of the World (D)
39. Dolores River Overlook (E)
40. Rose Garden Hill (D)
41. Thompson Canyon, Polar Mesa (M)
42. Castleton Gateway Road (E)
43. Geyser Pass (E)
44. La Sal Pass (M)

AREA 4
Southwest Moab & Canyonlands National Park
45. Potash Road, Shafer Switchbacks (E)
46. White Rim (M)
47. Lathrop Canyon (M)
48. Chicken Corners (M)
49. Lockhart Basin (D)
50. Lockhart Canyon (M)
51. Canyon Rim Overlooks (E)
52. Colorado River Overlook (M)
53. Elephant Hill (D)
54. Lavender Canyon (M)
(M) 55. Beef Basin (E)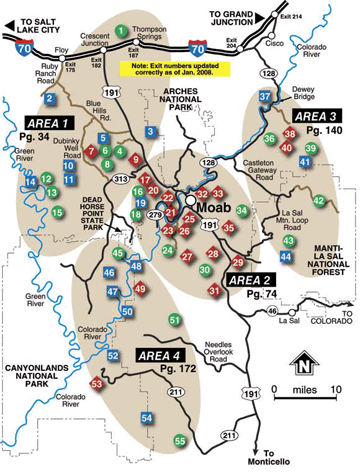 Detailed Map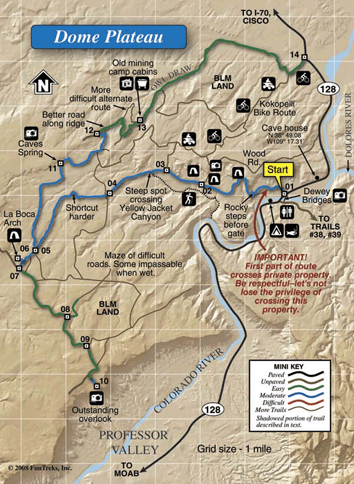 Sample Photos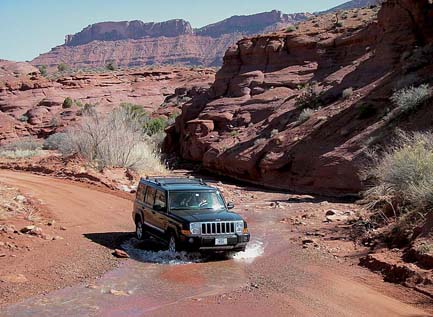 Onion Creek, Trail #36, Easy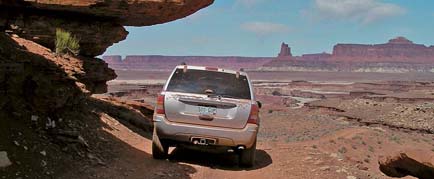 White Rim, Trail #46, Moderate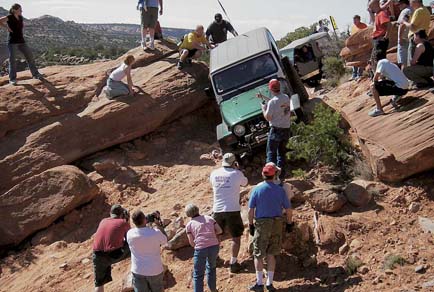 Flat Iron Mesa, Trail #31, Difficult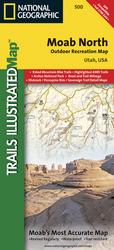 500 Moab North
This Trails Illustrated topographic map is the most comprehensive and complete recreational map for the areas south of Moab, Utah. The map shows all trails, campsites, and recreational features, plus ratings and mileage for mountain biking trails and junction-to-junction road and trail mileage.
Coverage area includes Green River, Fisher Towers and Arches National Park; highlighted Jeep Safari Trails and Mountain Bike Trails from Moab to Interstate 70; enhanced coverage of Dubinsky Wash to the Green River. Includes detailed 1:35,000 scale insets of Moab, Slickrock Bike Trail, Sand Flats Recreation Area, and Monitor and Merrimac Buttes/Bartlett Wash Area.

All data is updated to reflect road closings, new trails, and campground relocation. Printed on waterproof, tear-resistant material with a plastic coating that offers supreme durability for your next outdoor adventure.

Scale = 1:70,000.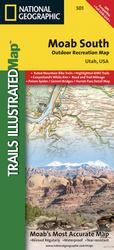 501 Moab South

Coverage area includes Moab, Dead Horse Point State Park, Behind the Rocks WSA, Hurrah Pass and Canyonland's White Rim; highlighted Jeep Safari Trails from Moab to Canyon Rims Recreation Area; and detailed 1:35,000 scale insets of Moab, Moab Rim, Poison Spider Mesa, Gold Bar Rim, and Gemini Bridges Area.

All data is updated to reflect road closings, new trails, and campground relocation. Printed on waterproof, tear-resistant material with a plastic coating that offers supreme durability for your next outdoor adventure.

Scale = 1:70,000