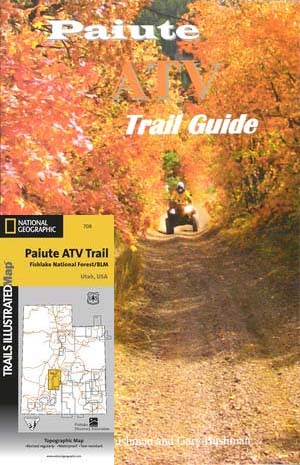 Page after page of detailed information on the Paiute ATV Trails. Photos, Maps, GPS Data for every intersection and point of interest on the trail, Tip and Tricks for riding the Paiute ATV Trails. Divided into the major sections of this mammoth trail system and includes information on how to access the trails from each community surrounding the trail system and much more. This guide also includes National Geographic's Trails illustrated Paiute ATV Map 708 which is a very detailed map covering the entire area including most side trails and the map also has enlarged street views of were ATVs can be ridden in all towns along the trail.

This Trails Illustrated topographic map is the most comprehensive and complete recreational map for Utah's Paiute ATV Trail. The map shows all trails, campsites, and recreational features, plus valuable wilderness and Leave No Trace guidelines.

Coverage includes Fishlake National Forest, BLM - Sevier River Resource Area; Millard, Sevier and Paiute counties; complete map of Paiute ATV Trail with adjoining loop trails and town access maps; Fillmore, Richfield, Koosharem, Marysvale, Geenwich and Circleville. Piute, Otter Creek, Rocky Ford, Koosharem and Three Creeks reservoirs.

All data is updated to reflect road closings, new trails, and campground relocation. Printed on waterproof, tear-resistant material with a plastic coating that offers supreme durability for your next outdoor adventure.

Measures 4" x 9" folded and 28" x 32" fully opened. Scale = 1:90,000.
$29.90