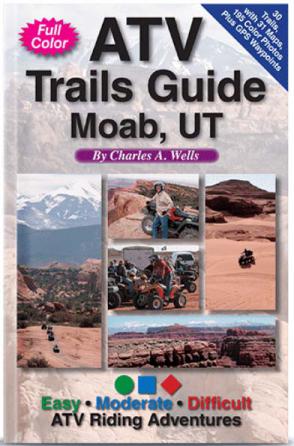 ATV Trails Guide Moab Utah
$18.95
18.95
Features
30 Trails, 160 Pages
31 Custom Maps
Hundreds of color photos
GPS Waypoints
Routes are Loops When Possible
Includes Staging Areas
Detailed Mileage Log
More Details
This new full-color guide has been designed specifically for ATVs, but trails are also great for dirt bikes. Precise directions, pinpoint maps and stunning color photos guide you through Moab, Utah's legendary backcountry. Thirty "cruiser-to-bruiser" routes provide thrilling rides for all skill levels. Learn where to unload and places to camp. Stay on course with handy GPS waypoints. New easy-to-use ATV format.
Complete Trail Listing

1. Crystal Geyser (E)
2. White Wash Sand Dunes (M)
3. Tenmile Wash (M)
4. Rainbow Terrace (M)
5. Dellenbaugh Tunnel,Secret Spire (M)
6. Hey Joe Canyon (D)
7. Determination Towers (M)
8. Sevenmile Rim (D)
9. Sovereign Trail (M)
10. Gemini Bridges (E)
11. Bull Canyon (E)
12. Poison Spider Mesa (D)
13. Potash Road (E)
14. Hurrah Pass (E)
15. Chicken Corners (E)


16. Kane Creek Canyon (D)
17. Picture Frame Arch (E)
18. Kane Creek Canyon Rim (D)
19. Dome Plateau (M)
20. Pole Canyon Rim (E)
21. Top of the World (D)
22. Dolores River Overlook (E)
23. Onion Creek (E)
24. Fins & Things (D)
25. Steelbender Loop (D)
26. La Sal Pass (M)
27. Hideout Mesa (M)
28. Greasewood Canyon (D)
29. Cameo Cliffs/Wilsons Arch (M)
30. Cameo Cliffs/El Diablo (D)
Detail of Typical Trail Map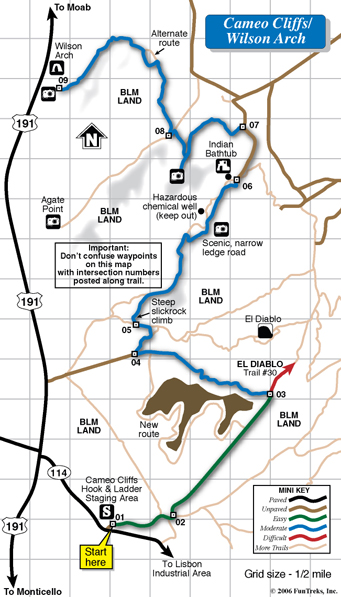 Sample Photos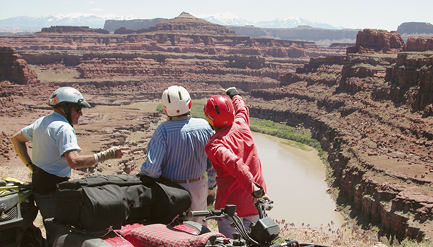 Potash Road, Trail #13, Easy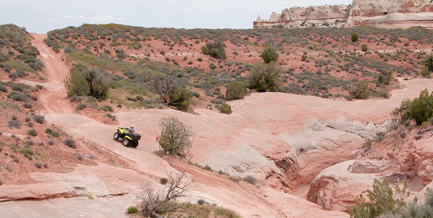 Dome Plateau, Trail #19, Moderate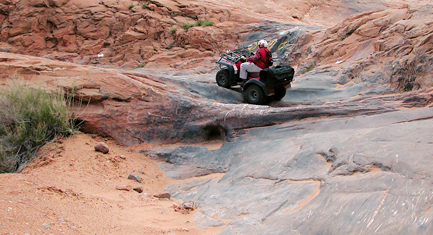 Poison Spider Mesa, Trail #12, Difficult
Sample Pages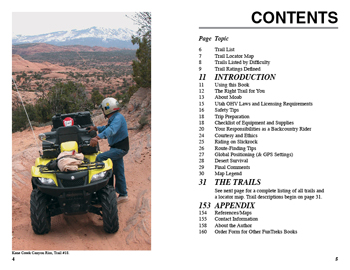 Pages 4 & 5, Contents.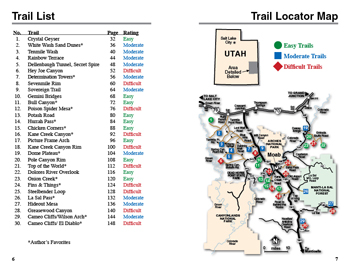 Pages 6 & 7, Trail List and Locator Map.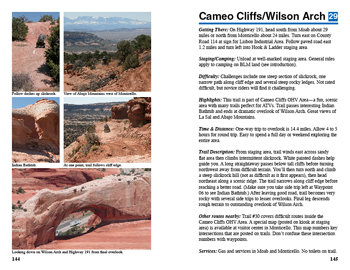 Pages 144 & 145, first two pages of trail description.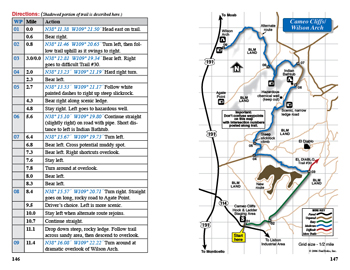 Pages 146 & 147, second two pages of trail description