Paiute ATV Trails
Manning Meadows
The Paiute ATV trail is located in central Utah and consist of a main loop of about 300 miles. In addition to the main loop there are approximately 1800 miles of side trails that spur off of the main trail of varying difficulty. The Paiute trail also connects with the Fremont trail system to the south and the Sanpete ATV area to the north. You can easily spend a week or more riding these trails. No matter if you ride ATVs, UTVs or Dirt Bikes this is considered one of if not the best trail system in the country.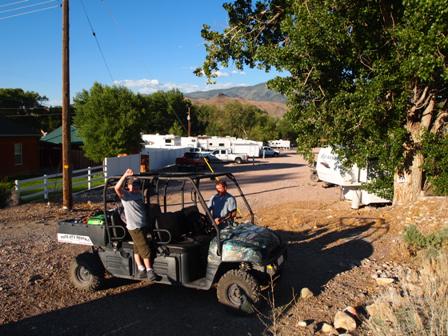 We started our adventure by picking up our Polaris Ranger UTV from Lizzie and Charlie's RV and ATV Park. Lizzie and Charlie's is ideally located in the center of the Paiute Trail in town of Marysvale. In additional to RVs and ATVs they also have cabins for rent if you are flying in from out of town like we did. It really is one of the better places I've dealt with when renting a Side by Side or Dirt Bike when on vacation. We flew into Las Vegas and then made the short drive north to pickup our rental.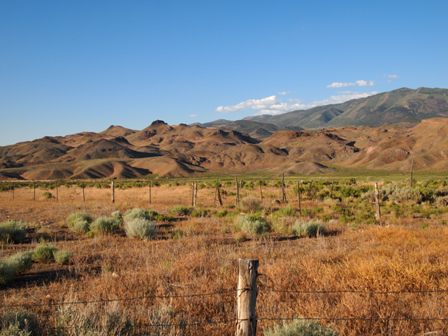 If you like wide open vistas you will love the area round Marysvale. The first few miles of trail lead through open cattle ranches. I really like the photo, I framed it and had it in my office for many years after this trip. Being that I am from Georgia and I we can see is trees, I'm always attracted to open spaces.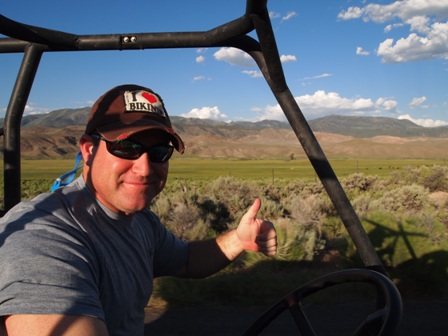 This was my first trip on a UTV. I was typically a dirt bike guy but I have to say I loved the Polaris Ranger Crew. I was able to navigate while Randy drove us around. I also love having the ability to talk to my friends instead of just pointing at something like we do on dirt bikes. Fast forward a few years and all of my dirt bikes have been sold I only have Side by Sides now. It is easy to see why they are so popular.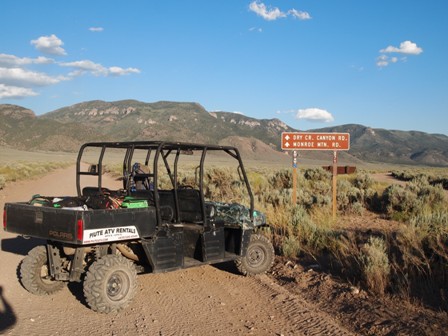 Heading for the mountains! As much as I like the open vistas of the valleys, the reason you ride the Paiute Trail is for the mountains. As you can see we were racing the sun to get to our first nights camping spot. After picking up our Polaris Ranger rental at 7 pm we only had about 1.5 hours to get to our camping spot 25 miles away, lucky for us we were there over the 4th of July when the days are long.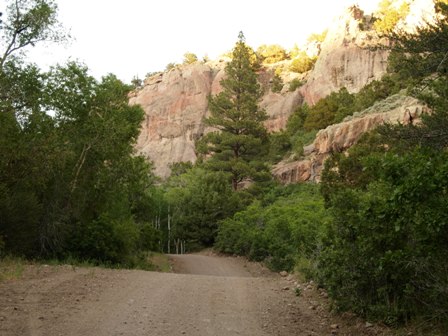 Since this was our first trip to this area we had one question on our mind, "how difficult is the Paiute ATV Trail?" Luckily for us on this section of the trail it was an easy ride. We were able to get to our campsite with not problems or delays.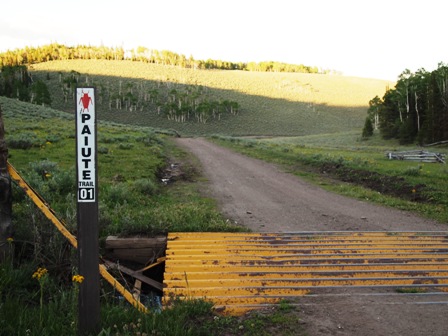 Another worry we had was, "Is the Paiute Trail clearly marked?" As you can see in the picture the Paiute Trail is listed as trail #01, it and all of the side trails are all clearly marked and navigation was never a problem.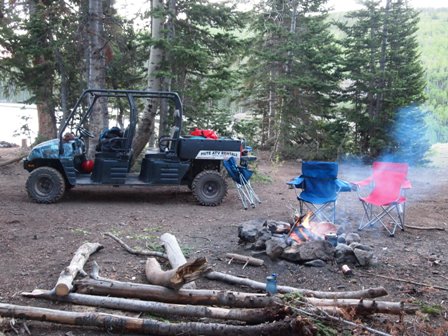 The first thing we did when we got our UTV was to ask, "Where is the best camping spot on the Paiute ATV Trail?" Milo at Lizzie and Charlie's ATV told us that one of the best camping spots along the trail was at Manning Meadows Reservoir. He was correct, we loved the spot right next to dam, it also had a restroom.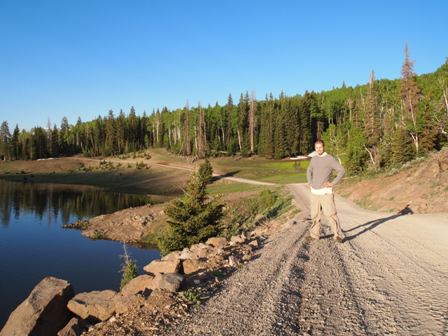 No one told us about the fishing along the Paiute Trail. If you are into fishing be sure to bring your fishing pole the reservoirs are stocked with tons of fish. If you like geocaching there is a great on right at the dam.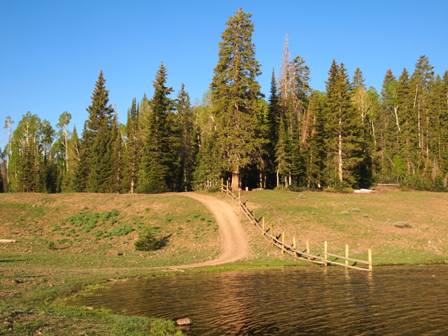 View of our camping spot from the Manning Meadows Reservoir.