Top Of The World
Moab , Utah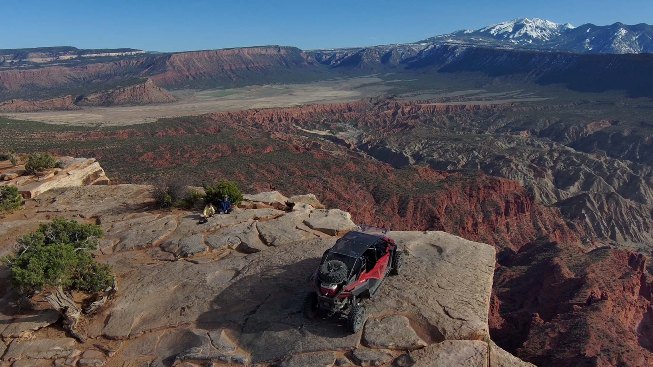 It's been a long time since I first visited the Top of the World in Moab. On my first trip I was on a small dual sport motorcycle. I remember the trail being a little hard but nothing that I really remember. Fast forward 20 years and this trail has really been worn down, it is much more difficult now.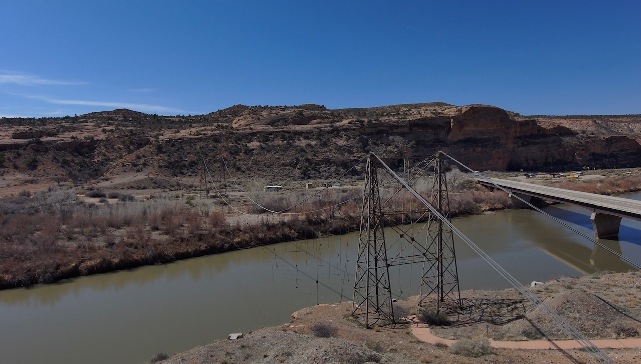 The trailhead for the Top of World trail is at the old Dewey Bridge. This was once the highway bridge across the Colorado River. I did get the chance to see before it burned down. It was a neat white wooden suspension bridge that the Kokopelli Trail used to cross the river . It had long been replace by the concrete bridge to the right side of the photo. Unfortunately a grass fire caught the bridge on fire and destroyed the road surface completely.
Back in 1999 I drove from Atlanta Georgia to Moab, Utah. Our first stop was at the Dewey Bridge Trailhead. I remember being very worried, I had come all this way to see red rock and there wasn't any in sight. It was just kind of bland brown desert. So we pitched our tents at the small campground at the highway bridge and I went to sleep wondering how this trip would pan out. They next day we got up and started down the trail, within a mile everything changed, huge red rock cliff surrounded the trail.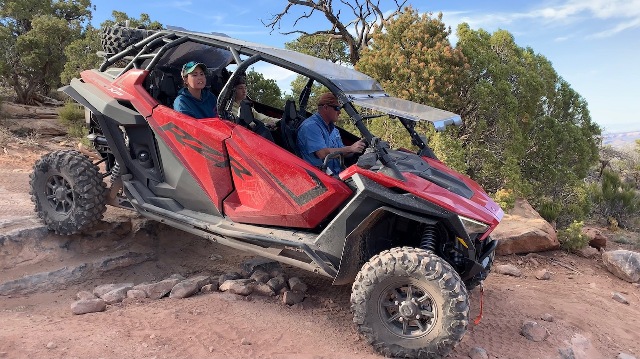 How difficult is the Top of the World Trail? Well over the last 20 years this trail has gone from simply a rough trail to a difficult trail. If you don't have somewhat large tires and good ground clearance you might not make it, at least you will not make it without dragging your frame a lot.


Moab Utah Guide Books, Includes Maps and Direction for this Trail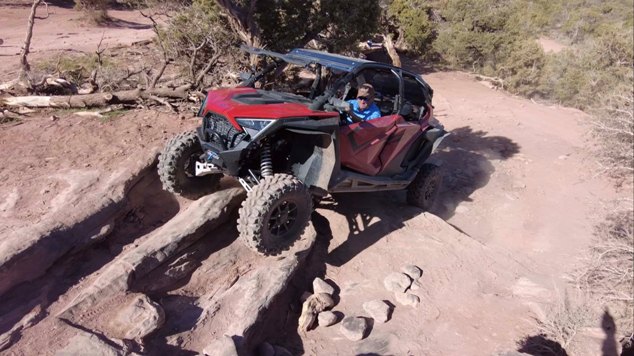 How big are the ledges on the Top of the World Trail? In my opinion there are about the maximum size I want to attempt on my Polaris RZR Pro4, any larger and I would be scraping too much. I have 30 inch tires in this photo with a Shock Therapy spring kit to get the unit to its full 14.5" inches of ground clearance. We saw many people walking the last mile to the top. Remember, things are always steeper in person than they are in pictures.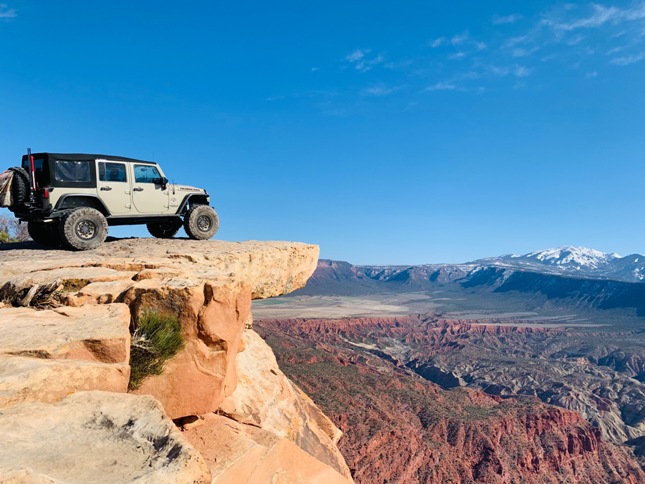 Have you ever wondered what is the highest over look in Moab? As far as I can tell the highest by far that you can reach in a vehicle is this view. However, that is one overlook that takes things to the next level, it is the overlook from the top of Mt. Tuk. Visit our sister page www.MoabAdventureCondo.com if you would like to visit that location.