White Rim Loop
White Crack to Mineral Bottom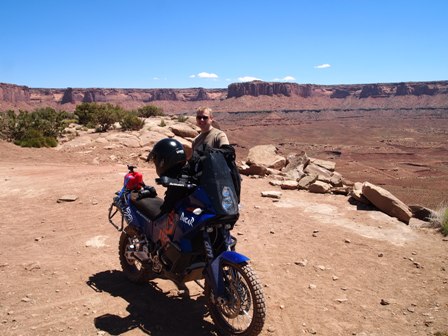 At the top of the Murphy Hog Back we stopped for a little break. A guy on this big KTM Adventure Bike rolled up and joined us for a few minutes. Notice the gas can on the back of this KTM? It was ours but fell off our bike within 5 miles of the start of the trail. This guy had found it but all of the gas had poured out of it. We just let him keep it.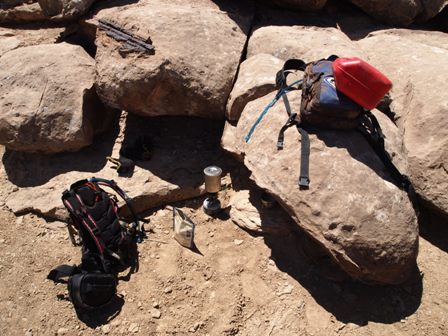 A good place to stop and eat lunch is the Murphy Hog Back. This trails takes 8+ hours so be prepared to carry something to eat with you. People want to know, is there water available on the white rim road? The answer is no, you will need to take everything with you. Remember the desert is hot and dry, when I say dry I mean it will suck the moisture out of you. Bring more water than you need.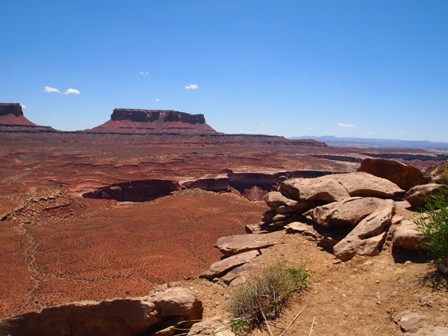 Lots of people now have UTVs that are street legal in the state of Utah and I'm often asked, Can I ride my Side by Side in Canyonlands National Park? ATV, UTVs and non-street legal dirt bikes are not allowed inside the Canyonlands National Park. Only Jeeps and street legal dual sports motorcyles can ride this trail.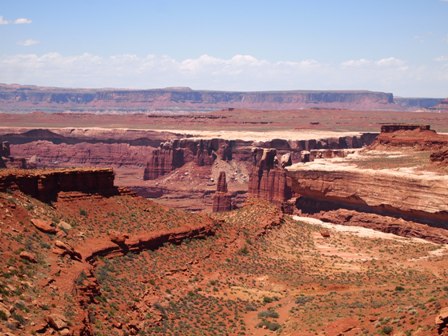 View from Murphy Hogback. In the distance is the Needles Overlook, it is well over a 150 mile drive from here to there.


Moab Utah Guide Books, Includes Maps and Direction for this Trail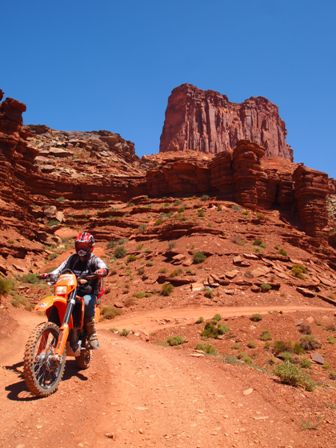 Our KTM rental from Utah Dual Sport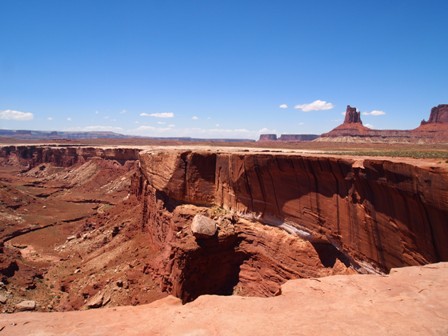 There are stunning views along the entire White Rim Road. There is no services in the area, you must return to Moab for food and gas. Having a breakdown could be catastrophic, I would not ride the White Rim Road solo.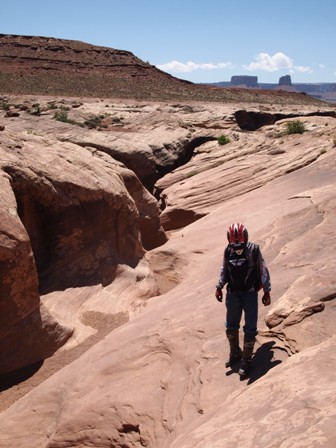 People often want to know, "how long does it take to ride the White Rim Road" Dual Sport Dirt Bikes can complete the trail in one day if you get a very early start. Jeeps typically take 2-3 days and Mountain Bike take 3 days to complete the trail.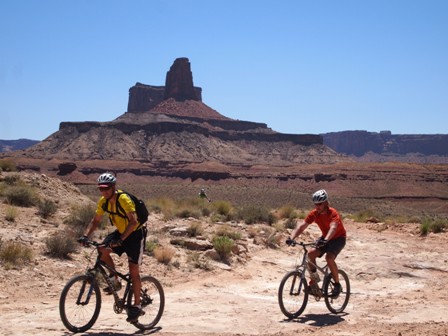 Watch out for Mountain Bikes on the trail. Sometime it can be frustrating to pass a Jeep or Mountain bike only to have them pass you back if you stop for a picture. This picture was taken in front of the butte John Wesley Powell made famous called Butte's of the Cross. He thought it was 1 butte but it is actually 2. During the Covid-19 shutdown of 2020 many professional cyclist were left with no races to compete in so many did solo challenges such as the completing the White Rim Loop in just over 5:30 hours.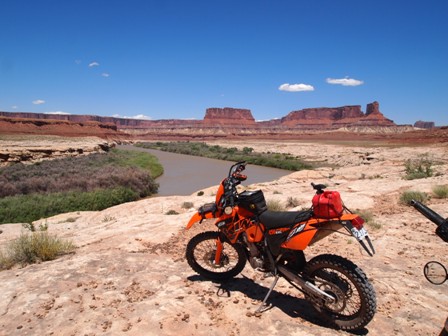 In many places you can ride right to the edge of the canyon and overlook the Green River. Can you ride down to the Green River? Yes, there is access at the Hardscrabble campground near the end of the White Rim loop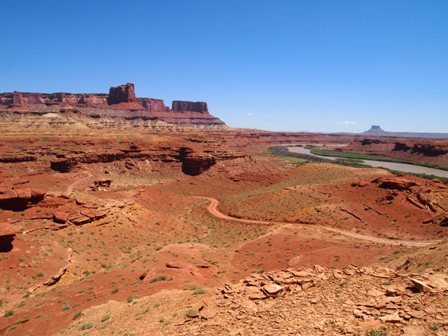 This is one of my favorite views along the entire trail. I just love the way the red rock contrasts with the lush vegetation along the Green River. I reality most of the green plants you see and an invasive plant called Tamarisk, it is causing major problems in the Colorado Plateau.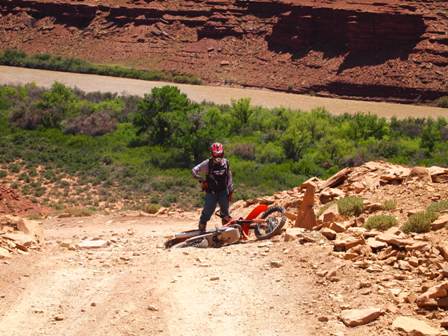 Hardscrabble hill is not very difficult but after about 80 miles of off road riding, mental and physical fatigue start to set in and you will make some mistakes. If you are not conditioned to long hours on the bike this epic ride could start to feel like an epic drag by the end of the day.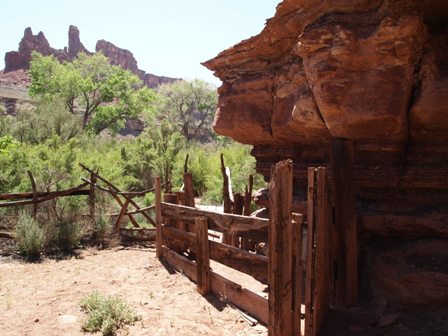 Just as you are approaching the Canyonlands National Park boarder you will see this neat desert corral. In a land of few trees, often times corrals were made out of the landscape to save fencing. I often wander, what was it like to live in Moab a hundred years ago? How often would you see other people?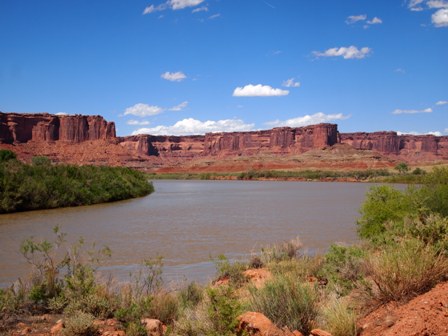 Green River as seen near Mineral Bottom. The Jeep road in this area starts to get easier. At right at 97 miles the White Rim Road is one of the best long distance trails in Moab.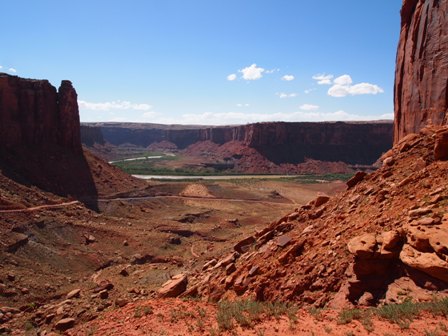 Horsethief Trail is assessable via ATV and non-street legal dirt bikes. So you can kind of ride UTVs on the White Rim road, but not really as this road is outside of the park.