Taylor Reservoir to Tincup Pass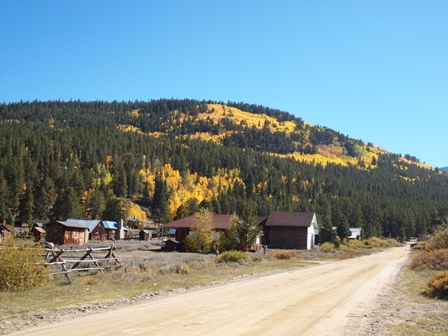 If you are in the Taylor Park area, Tincup Pass is a must. The trail starts out in the town of Tincup and goes past the beautiful Mirror Lake on its way to the pass. If you are early in the year be ready for deep water at the lake. The water was over our dirt bike hubs in the first week of July. Also, we were able to make it to the top of the pass but the trail was blocked by a large snow drift. The Timberline Trail also connects to this trail near Mirror Lake. If the weather permits and the passes are open you can make a loop from Tincup Pass to Handcock Pass to Cumberland Pass. This large loop should take all day.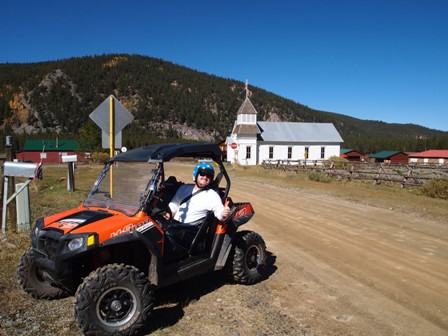 Frenchy's Cafe is located at the start of the trail in Tincup. The Frenchy's restaurant serves a great breakfast and is a very historic place. While you are there buy one of their books on the history of Tincup and it will explain the history of many of the mines the trail passes by.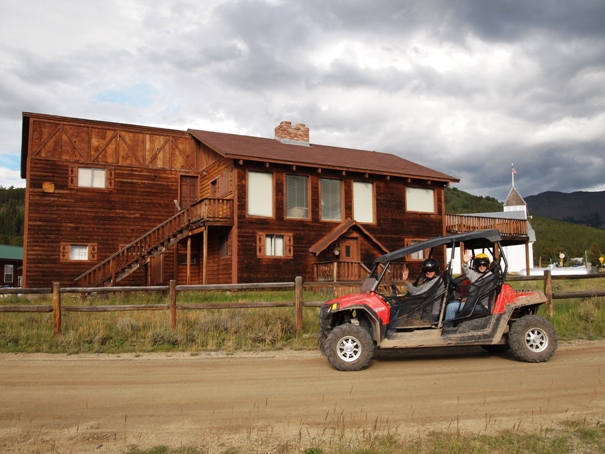 We enjoyed our stay in Taylor Park in this rental home know as Tin Cup Lodge.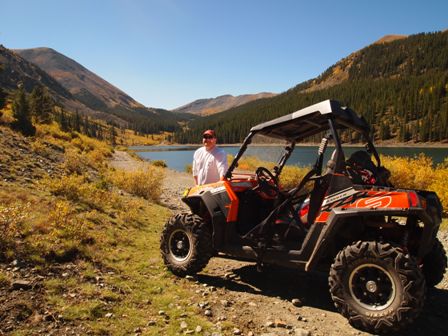 Mirror Lake is a great place to stop and take a break or maybe try your luck as some lake trout along the Tincup Pass Jeep Road.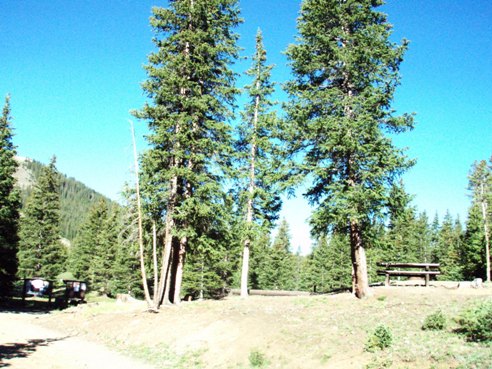 There is a camping area at Mirror Lake. We were able to drive our 2-wheel drive truck all the way to the camping area with no problems, but don't expect to continue past the lake in a stock vehicle.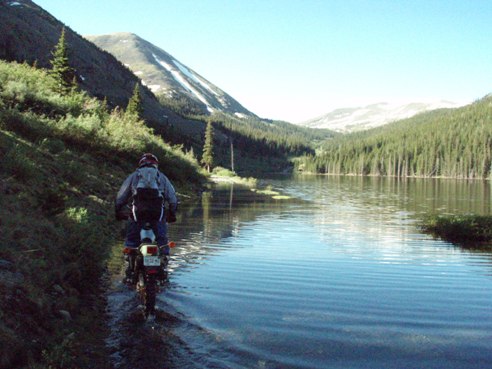 During the spring thaw the water in Mirror Lake floods the trail. In some parts the water was up to our hubs on our dirt bikes. ATV's should have no problem getting through. This picture was taken on July 1st.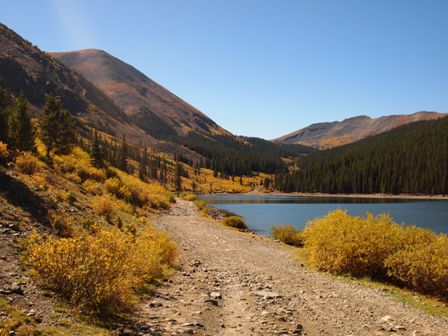 Same location as above on September 14th. No water on trail!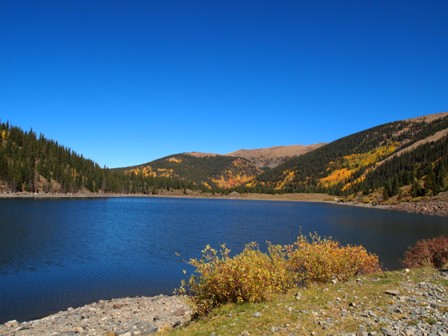 Picture of the top end of Mirror Lake. The ATV trail becomes more difficult once you leave the lake. You will begin to wonder how stage coaches ever made the trip over this route.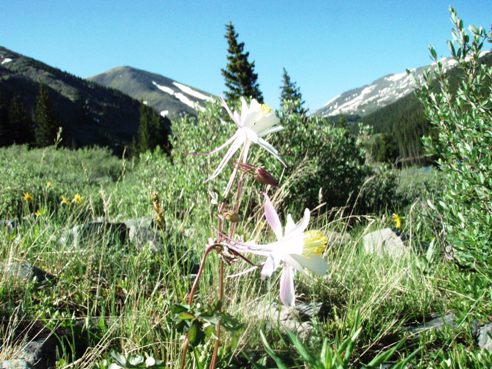 Colorado wild flowers along the trail.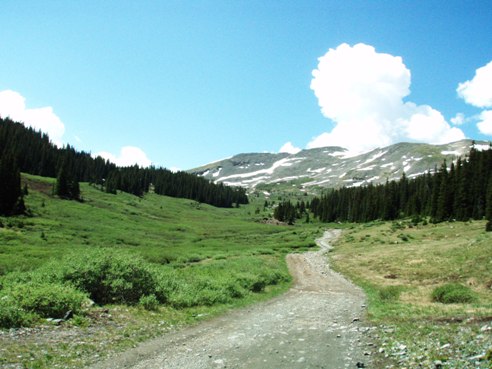 View of the Jeep road nearing the Tincup Pass.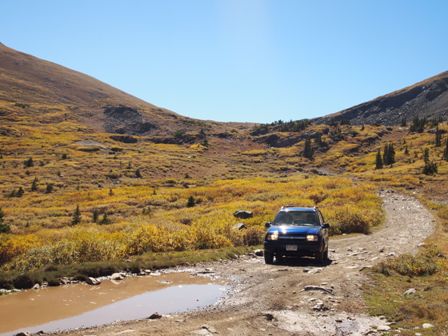 Small 4x4 SUV descending the trail from pass in fall colors.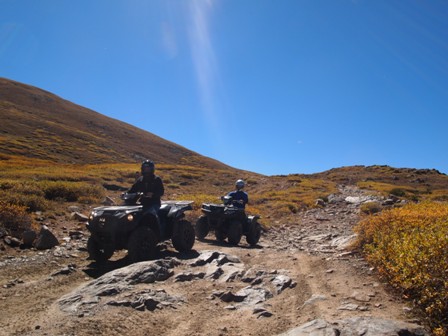 ATV's just starting down from Tincup Pass. No trees at 12,154 ft.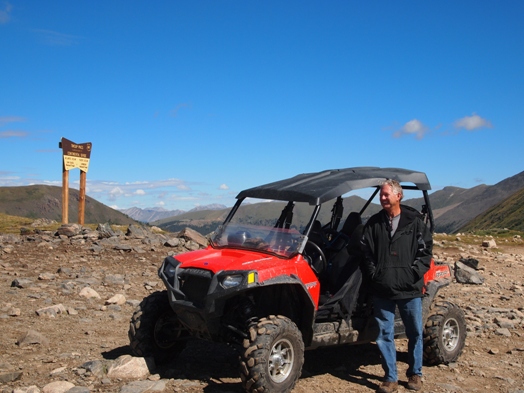 If you can get on the trail before the snow does, mid September is a great time to visit Tin Cup Pass.
As always we are riding a rental UTV from Colorado Adventure Rentals which always has the newest and best ATVs around.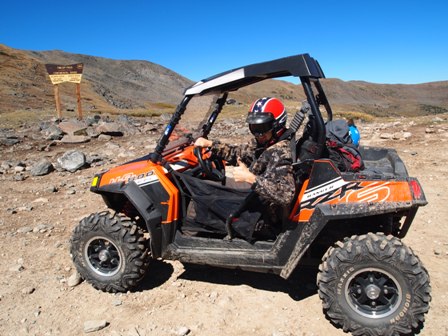 Beautiful Tincup Pass. A great ATV adventure for people staying at Taylor Reservoir.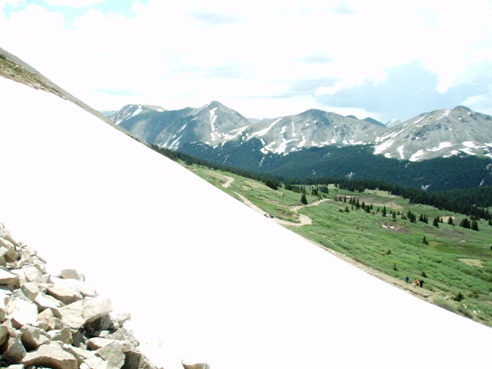 Large snow mound blocking the trail in early July. The rest of the trail continues to St. Elmo.