White Rim Loop
Shafer Switchbacks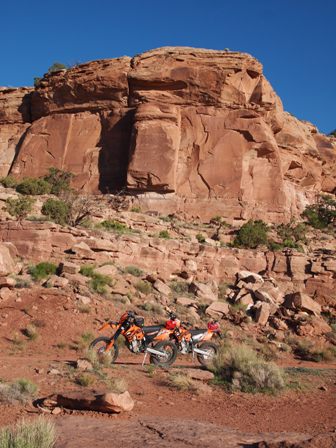 The Shafer Trail is the 1st part of the White Rim Road that circles around the Island in the Sky district on Canyonlands National Park. Since this trail is only open to street legal vehicles, you can only ride this trail on dual sport motorcycles or Jeeps. Sorry UTVs with tags are NOT considered street legal in National Parks.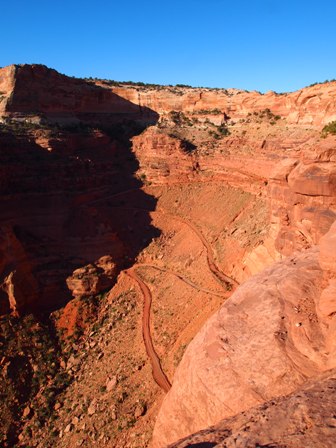 After just a short distance from the turnoff of the main park road the trail will start to angle downhill off of the Island In The Sky mesa and you will get your first view of the switchbacks.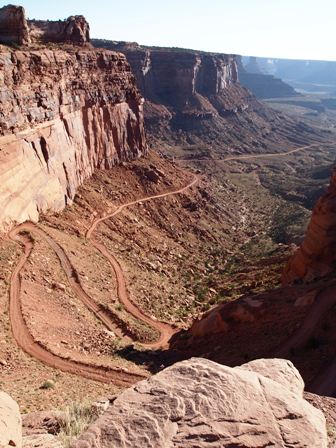 ATV and non-street legal dirt bikes can approach the switchbacks via Potash Road coming from Moab but they can not enter the park. The boundary line of Canyonlands National Park is well marked so there is no excuse for entering the park on a non-street legal vehicle. On a recent bicycling trip along this route I saw a group of UTVs passing the boundary. There was a ranger waiting at just a short distance up the road, I don't know what happened to them but I imagine their vehicles were impounded and they got a stiff fine.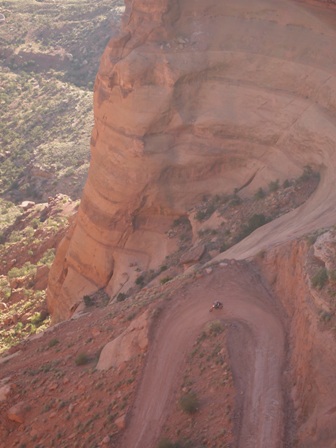 Our KTM rental starting down the switchbacks. This is not a drone shot, it is me taking the picture from the switchback above this one. This gives you an idea of just how step the trail is.


Moab Utah Guide Books, Includes Maps and Direction for this Trail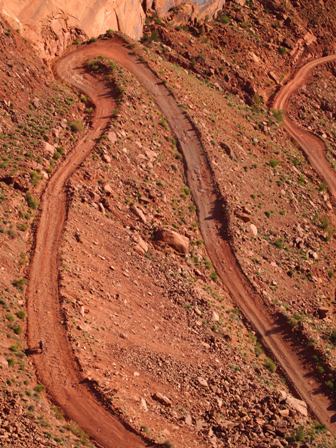 Though the switchbacks are long and very high up they are not difficult, just be sure to use caution on them. When my dad reached the bottom he had to stop and rest a bit to let his forearms relax some from the death grip he had on the handle bars.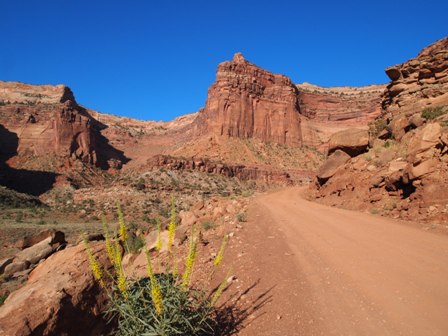 View from bottom of trail looking back into the canyon. This is about as close as ATVs and UTVs can get when approaching from Potash Road from the north. Though Potash Road is neat, I think for UTVs Chicken Corners and Lockhart Basin trails are better.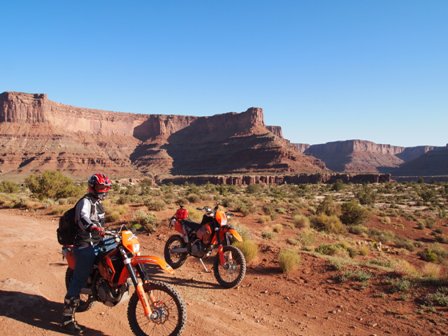 High canyon walls are typical in of this part of Utah. The steepest parts of the cliffs are made from Windgate Sandstone. Each layer of rock represents a different rock formationT the harder the rock the steeper the cliff will be. We loved our KTMs from Utah Dual Sport.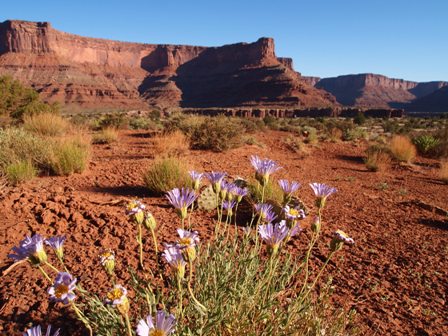 Spring flowers along the trail. The best time for this trail is during spring and fall. Summer is too hot and ice could be on the trail in winter.
The trail starts at about a mile before the visitors center, you may find better parking near the Horsethief Campground.
Use the below Free White Rim Road trail map to explore this trail.