Brown Mountain Trail
North Carolina





Brown Mountain Off-Highway Vehicle (OHV) Area, on the Grandfather Ranger District of the Pisgah National Forest, offers 34 miles of rugged, mountainous trails with lots of challenges. The trails range in difficulty from "easy" to "difficult." Note that the trails are color coded on the map to show their difficulty. The map also has vehicle symbols to show which trails are open to trail bikes, allterrain vehicles (ATV's), 4-wheel drive vehicles, or all three. Mountain bikers may use trails at their own risk; the same fee is required.
All 34 miles of trails are open to trail bikes, while over 14 miles are open to ATV's. Jeeps and other 4-wheel-drive (4WD) vehicles may use trail 8 and part of trail 1. Trails 1a and 1b are only open to
trail bikes and ATV's. OHV's may not be ridden on the access road, 299, from the highway. Most trails are not wide enough for two-way traffic, so a one-way system is provided. The trail numbers can only be seen when traveling in the correct direction. Please observe the one-way signs, but be alert for people who may accidentally travel the wrong way. Brown Mountain OHV Area is the
only place in Pisgah National Forest where ATV's and unlicensed trail bikes may be ridden. On forest roads outside this area, only licensed, street-legal vehicles may be ridden. State vehicle laws are enforced on forest roads.
Do you have pictures from this trail? Please send them to me at this link
Call Before You Haul: Due to weather conditions and maintenance, this trail may be closed on short notice. Before your ride, please call the OHV hotline at 828-652-2144.
Length: 34 miles
Surface: Dirt and Rocks
Fees
:
A fee is charged for use of the trail system. Daily or seasonal passes may be purchased at local vendors or at the Grandfather District Office at 109 East Lawing Lane, Nebo, NC 28761. The District is at exit 90 just off U.S. 40 and is open Monday through Friday, 8 a.m. to 4:30 p.m. The funds are used to maintain the trails and make improvements in the area.
Season: Brown Mountain OHV Area is open this year from April 1 through January 1.
Amenities:
Primitive camping is permitted in the OHV area. Designated sites are located along the entrance road. Each site has a table, grill, and lantern post. A picnic shelter, water
hydrant, and "sweet-smelling" vault toilet are located at the trailhead. Alcoholic beverages are not permitted in the OHV area, including in campsites or on trails.
Please take your trash with you. When you are away from the toilet, be sure to bury everything, including toilet paper, at least 200 feet away from the creek. Don't drink
untreated creek water.
National Forests in North Carolina
160A Zillicoa Street
Asheville, NC 28801
828-257-4200

Grandfather Ranger District
109 East Lawing Drive
Nebo, NC 28761
828-652-2144
Directions: From Lenoir:
Take Highway 90 west to Collettesville. Turn left on Adako Road (SR 1337) just beyond the
elementary school and grocery store. Travel 4.4 miles to the Brown Mountain OHV Area entrance
on the right at the sign.

From Morganton:
Take Highway 181 north about 11 miles toward Linville. Turn right on Brown Mountain Beach
Road (SR 1405) at a small wooden church on the right. Travel 3.5 miles east to the Brown
Mountain OHV Area entrance on the left at sign.
Taylor Park ATV Trail Guide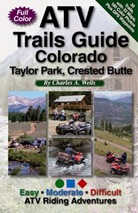 Guide to Moab ATV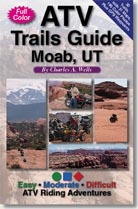 Guide to Colorado Trails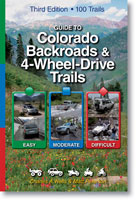 Guide to Northern Colorado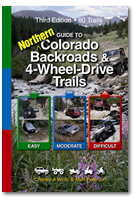 Promoter List Your
Trail On This Site