Promote your park on www.atvtrails.org




Want your off road park to get to exposure on the webs #1 atv trails web site? That's right for nearly a decade we have been Yahoo and Google's top listing for natural searches for "atv trails". Check it for yourself go to their sites and see who is on top. That means all of our visitors are getting exactly the info they need from our site. When visitors visit our site they get the atv trails info they are looking for, you don't have to worry about wasting your advertising dollars on people searching for unrelated topics.
What can our site offer you.
$100 - We will create a custom page on our site describing your trail park. We will give you full control to post any info you would like to have on the page plus we will link directly to your home page. This one time fee will last for the life of our site, that's right once you are listed you there for good.
View example Bearwallow Trail
$500 per year - Is the state your trail park is listed in already crowded with other parks and you want yours to stand out? We can create custom banners that are listed on the top or sides of your state's page promoting your site. For example say you want to advertise in Georgia, we have 14 trails listed for Georgia. Your banner add will appear on all 14 pages plus the main Georgia page.
$500 per year - Get your park noticed as soon as visitors visit our homepage. We will place your custom banner add on our homepage promoting your trail park. Does your park have other features in addition to trails such as rentals, cabins, restaurants, pro-shops, etc get the word out. For as little as one family's weekend rental fee you will enjoy exposure promoting your park for 1 year.
$100 per event - Does your park schedule large 1 time events? Get your event listed on our homepage for at least 2 weeks preceding the event. This is a cheap an effective way to draw attention to your park and your special event.
$2400 per year - Total site exposure on the major portions of our site. Includes all above options plus list your banner adds on all major portions of our site. This option also includes 2 special events you can place on our homepage.
If you are interested please email or call and get your park noticed today.

Contact: Pete peteuga@yahoo.com

770-463-2346
Taylor Park ATV Trail Guide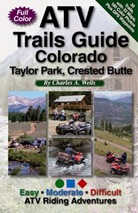 Guide to Moab ATV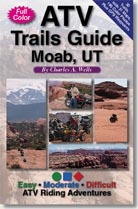 Guide to Colorado Trails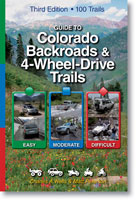 Guide to Northern Colorado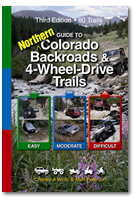 Promoter List Your
Trail On This Site