Seminole ATV Park
Cobbtown Georgia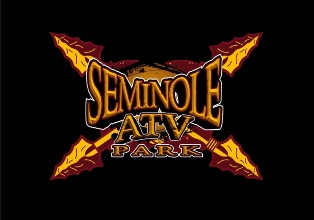 Seminole ATV Park outdoor enthusiast riding park is located in Cobbtown Georgia. They offer a little bit of everything for everyone. If you like to trail ride for miles they have it. Those who want to challenge themselves with extreme riding or play areas for deep water riding this park can accommodate you with no problem. They offer an enclosed kiddie area with 4 tracks for our upcoming riders to practice safely. They host sanctioned mud racing events in their state of the art Mud Bog and Mudda Cross pits that allows everyone to join in. They have recently added a new MX trails for the motocross riders. These are one way trails to ensure the safely of riders. If you are wanting a family friendly environment then this is the park for you. They offer R.V. spots with water and electric. Seminole Park also has a showerhouse with 20 HOT water showers are always available and open. Primitive camping is always allowed. Bring your canoe and pole and throw out a line in our lake or jump in for a swim. With a general store offering camping supplies, ice, apparel and minor repairs products for your atv's such as belts, spark plugs and more They have a little bit of everything. Check out our bulletin board for all the specials, upcoming events and information on things to come. Park maps and schedules are handed out at the front gate to everyone for your convenience. Weekend rates are available.
Call Before You Haul

Due to weather conditions and maintenance, this trail may be closed on short notice. Before your ride, please call the OHV hotline at (803) 561-4025.
Length: 10.9 miles
Surface: Natural, packed clay, hardened areas and gravel roads.
Fees:
$5 per OHV per day
Golden Age/Golden Access discounts do not apply. Seasonal permits are available for $50 from the District office.
Self-serve fee station
Trail Blaze: Blue
Requirements: Maximum width 50 inches. Spark arrestors are required.
Safety: Avoid trail use during the first two weeks of rifle deer season. Wear blaze orange during the entire hunting season. Helmets are strongly recommended. Be mindful of traffic when traveling on or crossing roads.
Season: Open last Friday in March through first Monday after Jan. 1
Amenities:
Gravel Parking
Loading/Unloading Ramp
Vault Toilets
Information Board
Picnic Tables
Garbage Cans
Long Cane Ranger District
810 Buncombe Street
Edgefield, SC 29824
Phone: (803) 637-5396
Fax: (803) 637-5247
Hours: Monday–Friday, 8 a.m.– 4:30 p.m.
Directions:
9418 Donnell RD
Cobbtown, GA 30420